Top 10 Electric Cars You Must Own in the UAE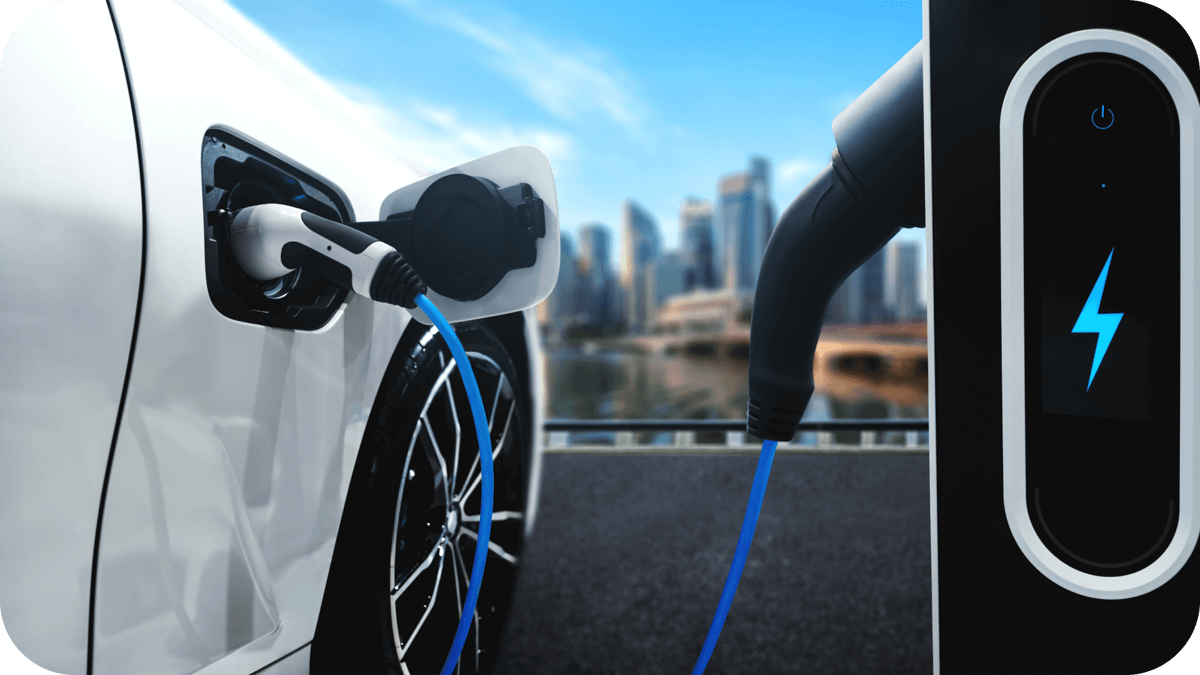 Electric cars in the UAE have seen a surge in popularity in the UAE as there is a global push towards sustainability and the use of green energy. These cars are equipped with the latest eco-friendly technology, making them an attractive option for environmentally conscious individuals. If you are interested in making the switch to a more sustainable lifestyle or you're simply curious about electric cars, our list of the top 10 options is a must read. Let's get started. 
Top 10 Electric Cars in the UAE and their Top Features:
| | |
| --- | --- |
| Car Model | Features |
| Tesla Model S | Long-range, quick acceleration, advanced autopilot capabilities, luxurious interior |
| Nissan Leaf | Affordable, comfortable, reliable, regenerative braking, spacious interior |
| Chevrolet Bolt EV | Impressive range, practical hatchback design, user-friendly infotainment system |
| BMW i3 | Stylish design, nimble handling, sustainable materials, extensive EV-specific features |
| Jaguar I-PACE | High performance, luxurious interior, ample cargo space, advanced safety features |
| Hyundai Kona Electric | Long range, practical crossover design, comprehensive warranty |
| Audi e-tron | Premium build quality, spacious interior, advanced driver-assistance systems |
| Kia Soul EV | Funky design, roomy interior, good value for money |
| Porsche Taycan | Exceptional performance, cutting-edge technology, luxurious interior |
| Mercedes-Benz EQC | Comfortable ride, elegant styling, advanced driver-assistance features |
Tesla Model S
One standout option is the Tesla Model S, which is known for its groundbreaking features. It offers long range capability, quick acceleration, and advanced autopilot capabilities. Providing a premium driving experience. Inside, the Model S boasts a luxurious interior with plenty of cargo space and innovative features like a large touchscreen display.
Nissan Leaf
Embodying numerous noteworthy qualities, the Nissan Leaf emerges as an exceptional all electric car in the UAE choice. By incorporating a zero emission drivetrain into its design framework. This automobile significantly contributes to preserving our environment in admirable ways. Furthermore with an extensive driving range at its disposal and effortless charging options available to drivers at their convenience the Leaf continues to heighten its appeal among consumers even more effectively. The inclusion of advanced technologies like 'ProPILOT Assist' and 'e Pedal' undoubtedly exemplify Nissan's earnest commitment towards enhancing the overall driving experience while simultaneously prioritizing electric mobility for a greener future ahead.
Chevrolet Bolt EV
The Chevrolet Bolt EV is a standout electric vehicle with a range that keeps you going. With an EPA-estimated range of up to 259 miles per charge, it offers a practical solution for everyday driving. Its impressive acceleration, smooth handling, and regenerative braking add to the overall driving experience. The Bolt EV also comes equipped with advanced features like one-pedal driving, a customizable Driver Information Center, and an intuitive infotainment system, making it a compelling choice for eco-conscious drivers.
BMW i3
The BMW i3 is a visionary electric vehicle that combines sustainability with innovation. Its unique design, featuring a carbon fiber reinforced plastic body, offers both efficiency and agility. With an electric range of up to 153 miles, the i3 provides emission-free driving. It also boasts advanced features like regenerative braking, a user-friendly infotainment system, and optional Range Extender for extended journeys. The BMW i3 showcases the brand's commitment to eco-friendly mobility and cutting-edge technology.
Jaguar I-PACE
Jaguars' dedication to pushing boundaries is clearly reflected in the exceptional nature of the Jaguar I PACE - an exemplary electric vehicle that truly redefines innovation. Unleashing its full potential through an all electric powertrain mechanism ensures remarkable performance while contributing to zero emissions for a cleaner environment. Moreover, this groundbreaking vehicle boasts an impressive driving range coupled with intuitive infotainment functionalities and cutting edge driver assistance systems. Further elevating its appeal is the opulent interior design that merges elegance seamlessly with sustainability principles while delivering exhilarating performance - ultimately raising the bar for all other electric vehicles. This is one the best electric cars that people in the UAE can opt for. 
Hyundai Kona Electric
The Hyundai Kona Electric is truly revolutionary in the electric vehicle market. Boasting an outstanding range of up to 258 miles. It not only provides practicality but also contributes to eco friendliness. This remarkable vehicle offers advanced safety features, a roomy interior, and an easy to use infotainment system making it an irresistible option for individuals in search of a versatile and efficient electric vehicle. 
Audi e-tron
The Audi e-tron blends luxury and electric performance, providing a polished driving experience with a range of up to 222 miles. This vehicle showcases a tastefully designed interior, equipped with advanced driver assistance systems and innovative technology such as virtual side mirrors. With Audi's esteemed craftsmanship and commitment to all electric power the e-tron establishes a fresh benchmark for electric SUVs.
Kia Soul EV
The Kia Soul EV truly shines with its distinctive style and impressive electric capabilities. It presents the practicality needed for urban driving boasting a remarkable range of up to 243 miles. Inside you will find a comfortable cabin, accompanied by an intuitive infotainment system and advanced safety features. Its unique design and efficient performance undoubtedly make it a standout choice among electric vehicles in the market.
Porsche Taycan
Redefined electric performance takes center stage with the Porsche Taycan as it pushes boundaries beyond imagination. It's astonishing acceleration and precision in handling, seamlessly merge athleticism and environmental responsibility. Additionally, passengers are treated to opulence within its exquisite interior enhanced by cutting-edge technology advancements. Noteworthy is its remarkable range reaching up to 227 miles on a single charge. As always, Porsche's unwavering pursuit of engineering excellence ensures that the electrifying driving experience delivered by the iconic design of Taycan surpasses all expectations.
Mercedes-Benz EQC 
Designed with utmost attention to comfort and performance. The Mercedes Benz EQC epitomizes luxury as an all electric SUV. Capable of covering distances of up to 259 miles smoothly and peacefully this magnificent vehicle offers passengers unparalleled convenience. The interior showcases refined craftsmanship while incorporating advanced safety features along with cutting edge connectivity options that exemplify modernity. By integrating top quality materials into every aspect of production, Mercedes Benz once again demonstrates their steadfast dedication towards creating luxurious experiences within the realm of electric mobility.
Conclusion
The UAE is excitedly embracing the concept of eco-friendly mobility and as a result the automobile market is expanding rapidly to provide a wide variety of options that can meet the needs and preferences of diverse buyers with different budgets. The electric cars listed above serve as an excellent demonstration of how eco-friendly technology can successfully accommodate individuals who are environmentally conscious, while simultaneously ensuring safety and efficiency features are not compromised. 
Regardless of whether buyers prioritize features, practicality, or affordability there is undoubtedly an electric car available to suit their interests. 
To conveniently purchase or renew insurance for your electric vehicle, click here.
Disclaimer 1: The website assumes no responsibility or liability for any errors or omissions in the content of this site. For the most current and accurate details, kindly refer to the official websites.
Disclaimer 2: This write-up is an attempt to present the most accurate and updated info, however the website assumes no responsibility or liability for any errors or omissions in the content. For the most current and accurate details, kindly refer to the official websites.